Slivered almonds are among the most widespread processed almond forms, and the most demanded by industrial manufacturers. Want to learn about its main uses and benefits? Keep reading!
The food industry is increasingly including almonds and its various processed forms, such as pastes, dices, slices and slivers, in the formulation of products and new developments. 
Their nutritional content, versatility and ability to enhance flavour or surprise consumers during consumption make them an increasingly-used ingredient.  
Why use slivered almonds?
Food trends related to sustainability, the transparency in the use of ingredients, plant-based consumption and the search for a better nutritional profile of products are encouraging manufacturers to find alternative formulations that can address these needs without forgoing flavour.  
Read more on this subject: Importaco terra: towards a more sustainable and efficient almond cultivation
In light of this landscape, slivered almonds has turned out to be an ideal ingredient for the food industry. Why? Because this product can connect with many mainstream trends:
1. High-protein.

The creation of foods with a

high nutritional value

and with plant-based proteins. 

2. Plant-based.

The formulation of foods based on

ingredients from vegetable sources

, such as nuts.
You might be interested in: Dairy alternative products, a growing category in search of the best nuts 
3. Healthy indulgence.

Aims to create attractive products, looking to improve textures, the visual aspect and flavour with healthier ingredients – clear goals that can be leveraged by adding slivered almonds

4. Functional food.

Products that include higher levels of minerals, vitamins, antioxidants and other functional nutritional benefits. 

5. Premiumisation

.

Adding value to foods

through certain mixtures or toppings. For example, ice creams or snacks with a slivered almond topping, which highlights the quality and premium aspect of the product.

Different forms of slivered almonds
In order to meet all of these demands, slivered almonds can be processed into different presentations:
Raw slivered almonds.

These are used as snacks when toasted and as an ingredient in bakery and patisserie. They are also used as garnishment in salads and pies.

Toasted slivered almonds.

These are mainly used as crunchy coatings in ice creams and frozen products. This leads to healthier and crunchier toppings.
These can be mixed with other forms of almonds to create a perfect visual sprinkle when adding a coating to a product. For example, almond Filiprim by Itac Professional is a product that contains toasted or raw almond sticks partially mixed with dices – an excellent combination to cover cakes, ice creams, industrial baked goods and much more.

DO YOU WORK AT THE FOOD INDUSTRY? ARE YOU LOOKING FOR ALMONDS, PEANUTS, HAZELNUTS OR NUT PASTES?
Applications of slivered almonds in the food industry 
Chocolates and confectionery
Data resulting from a study by Innova Market Insights shows that two out of three consumers are more willing to buy chocolates that contain almonds, over those that lack this ingredient. 
Related content: Improving chocolate tasting experience with almonds
In order for the food industry to deliver consumers chocolates and other products that they actually prefer, the following slivered almonds applications can be implemented:   
Crunchy coating
The sensory satisfaction caused by the crunchy texture of almonds in chocolate is one of the reasons why consumers enjoy, buy and ingest this mixture.
In addition to offering an attractive sound, a crunchy coating that contains nuts also increases the nutritional value of the product and enhances it visually, turning it into a premium product – a trend that is ever-present nowadays.
Therefore, the applications of slivered almonds include adding a crunchy coating to chocolates, pies, breads, ice creams and many other products.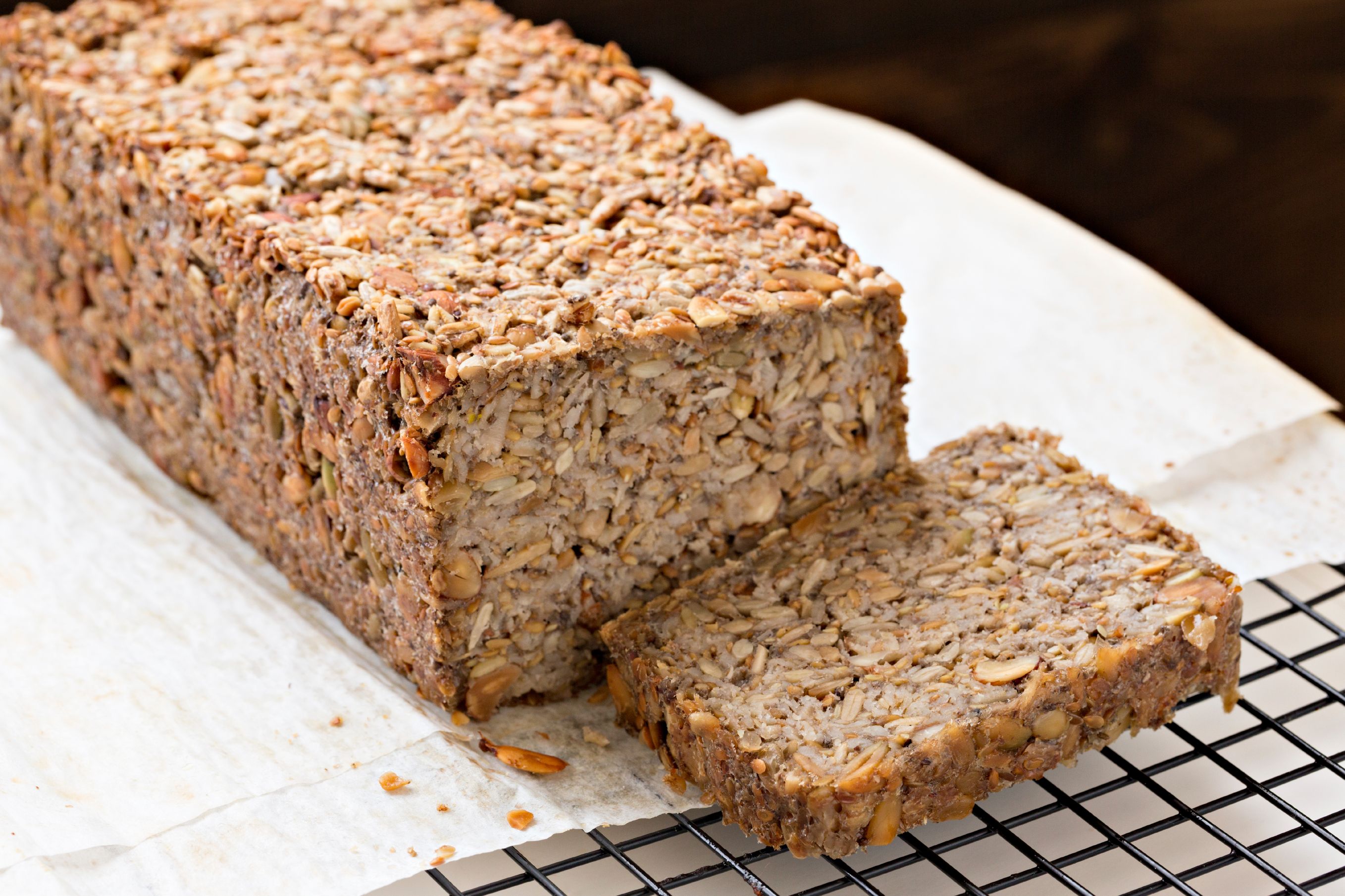 Snacks: alone or as part of mixtures
Due to their high fibre, protein and health fat content, nuts, and particularly slivered almonds, are ideal to be eaten alone as a crunchy, high-quality snack.
Blanched slivered almonds are also used to coat bars and other snacks or as part of nut mixes.
Ready-to-eat salads
Salad manufacturers add nuts to improve their flavour, texture, and to enhance the food quality and surprise consumers with a renewed format that improves the consumption experience. 
Thanks to the addition of almond sticks, salads gain a new allure – a crunchy texture that offers more satisfaction and a unique flavour that can only be added by nuts.
Other processed forms of almonds that you should know
In addition to slivers, almonds have other special processed forms for the food industry. For example:
Sliced almonds

. Almonds sliced longitudinally into many slices which have a very fine and crunchy texture. They can be combined with pies and chocolates, or mix them with salads.

Diced almonds

. This format is made by cutting the almond into small dices. It sees significant use in fillings and toppings for pies and ice creams, and as a crunchy coating in fish and roasted meats.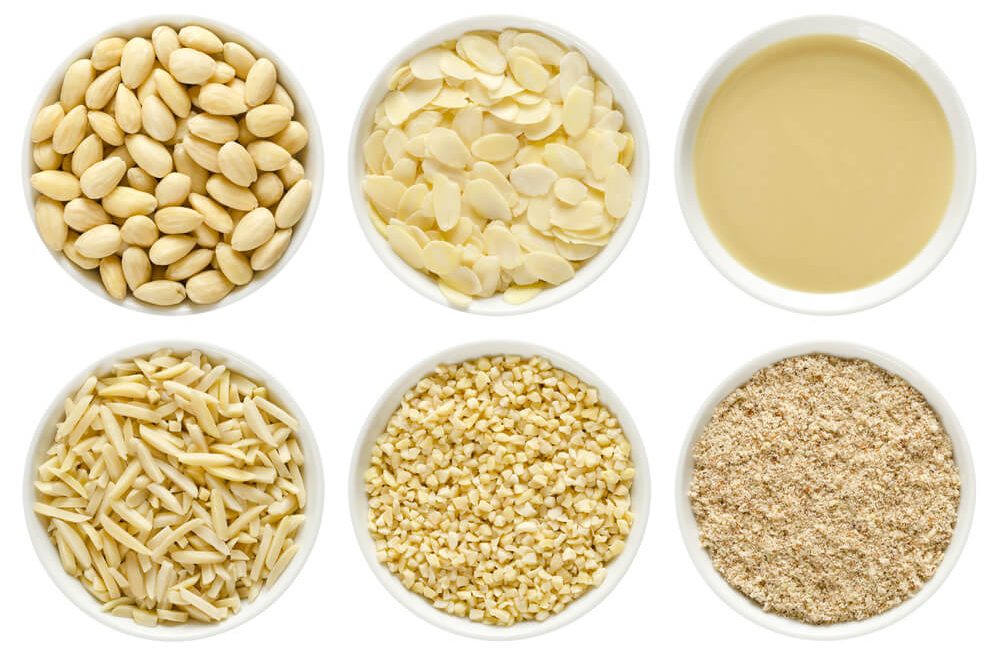 Itac Professional Almonds, from the field to your table
At Itac Professional we are suppliers of raw and processed almonds for the food industry. Our product stands out due to its traceability, which is guaranteed throughout the entire supply chain, with a painstaking quality control from the cultivation stage all the way to the final product.
We care for our almond right from the field, and make sure that the almond trees undergo an optimal flowering stage, that the product is grown sustainably and that it is adequately harvested and processed.
We prepare the product and subject it to a thorough selection process, classifying it and storing it with techniques that guarantee its freshness. In addition, for many years we have had a fully specialised almond factory that enables us to attain a high degree of diversity in our almond manufactures and processed forms.
At Itac Professional we have the latest in technology to process our almonds, with sights on offering our clients a wide range of grades and forms, such as slivered almonds, as well as diced and sliced almonds. Always guaranteeing the best quality.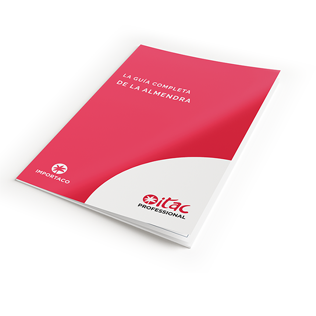 TAKE A LOOK AT OUR COMPLETE GUIDE TO ALMONDS FOR INDUSTRIAL BUYERS
Sources: