The popularity of nuts in the development of new products for the food industry grows with each passing year. In addition to the more traditional sectors that use this ingredient, such as chocolate, bakery, ice cream and nougat, there is an increasing number of manufacturers who choose to enhance their products with nuts and its many derivatives. In this article we will tell you why. Let's get into it! 
What are the greatest advantages of making formulations with nuts?
This raw material is attractive because it fits perfectly with the new trends that encourage a new way to eat food. These are sustainable ingredients, transparent before consumers; they are versatile, since they go perfectly with foods and beverages and are great for all kinds of diets: vegan, plant-based, free-from, keto/ketogenic and fibre-rich, among others.
With properties like these, it comes as no surprise that the number of nut products on the market is on the rise. Are you looking for inspiration? Find out how it is influencing the different sectors. 
Top new uses of nuts in the food industry
Snacks
This is one of the industries that is influenced the most by nuts. The main trends driving its addition include:
The need to enrich products with functional nutrients
Certain nuts, such as walnuts, are major sources of vitamins with natural nootropics1, which boost the cognitive system. This is also the case for its protein content. Because of a less-structured meal consumption, consumers demand protein-rich snacks that can serve as food alternatives at any time of day.


Another driver for manufacturers is developing solutions packed with nutrients such as fibre or good fats that also provide lots of energy. It has been demonstrated that almonds have great filling powers thanks to their high content of metabolisable energy.

Search for indulgence and healthiness
When combined with other ingredients, nuts can surprise consumers during consumption and evoke sensations, nostalgic memories or highlight flavours. Nuts go perfectly with daring flavours that, for example, combine sweet and sour, and that attract new generations.

DISCOVER ITAC PROFESSIONAL'S PRODUCT CATALOGUE FOR INDUSTRIAL MANUFACTURERS 
Beverages
The great versatility of nuts means that they mix well with beverages. One such example is the development of protein-rich beverages. But they are not only good as a functional ingredient: for example, peanut is being used in the development of new lines of gourmet flavoured coffee – an attractive way to stand out from the competition.
Dairy alternatives and gluten-free products
The popularity of plant-based products, combined with new diet needs, means that there is an overabundance of opportunities in the use of nuts for the development of dairy alternatives and gluten-free products. 
What do consumers expect from these products? Having a flavour and texture that is similar to those of the products that they replace, extra health benefits and a more natural formulation. 
The most popular products include almond, walnut and peanut-based drinks and yoghurt-like products.
Bakery
The industrial bakery sector includes nuts in its formulations to address needs such as:
Satisfy the demand from free-from products
In order to address the boom of gluten-free product consumption, manufacturers are shying away from formulations with refined flours and modified starches and introducing flours based on oat, corn, quinoa and almond as the base ingredient for their new products. 

Transparency and clean labels
New, completely reformulated developments with the purpose of including ingredients that are more familiar to consumers. The addition of nut flours or powders or nut cream fillings are a great asset towards that end.
You might be interested in: Most important food certifications for industrial companies
Confectionery and chocolates
Innovation in chocolate confectionery products is linked to a higher demand for innovative, healthy and sustainable products.
Why enhance these products with nuts?
It satisfies the demand for vegan solutions and vegan chocolates
Creating product lines formulated based on plant-based nut drinks is a great idea to conquer those major market niches.
Confectionery products have traditionally been seen as unhealthy. This industry can connect with new consumers if it manages to increase the benefits of its products by adding nuts, whether whole or as part of fillings or toppings. This is also valid if, through this, it manages to increase their indulgence.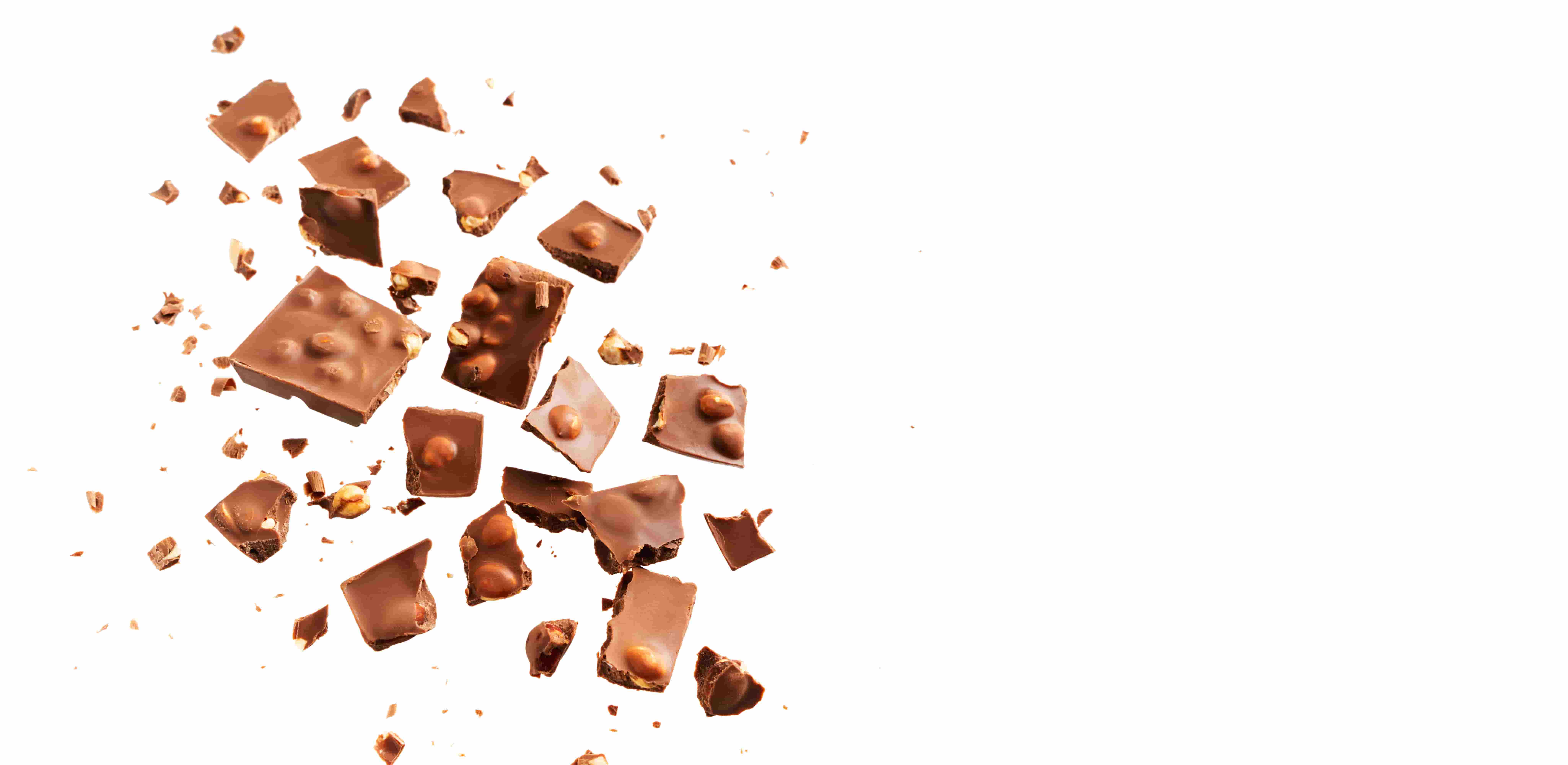 The confectionery and chocolate industry add these ingredients not only because it enhances the quality or exclusivity of a product, but also because it generates textures and visual experiences that set their products apart.
When speaking of chocolate industry developments, it is inevitable to talk about premiumisation. Roasted almonds, for example, mix perfectly with salt or high-cocoa chocolate, conferring a more premium status to the product.
You might be interested in: Chocolate confectionery trends: plant-based, healthy indulgence and texture innovation
Breakfasts
Here, the bullish cereal industry is seeing how this product finds new moments of consumption. Manufacturers are hard at work developing ready-to-eat cereals and cereals for convenience consumption, as well as cereal bars that offer an immediate nutritional boost. 
The addition of nuts, dried fruits and seeds is rising in cereal mixes and granolas. As an example, according to a recent survey by the California Almond Board, consumers like almonds to make cereals crunchier (44%), more nutritious (38%), more delicious (35%) and to enhance their premiumisation or quality (33%).

Sauces
Another classic for this product. A well-known example are pesto sauces, which include pine nuts in their formulation, but we can also find sauces that use nut-based vegetable beverages to create a smoother or creamier texture in their product. 
Convenience foods
The new generations of consumers show great interest in tasting exotic dishes or venturing into new and surprising flavours. In the case of convenience foods, the manufacturers of these products are making great strides towards innovation by incorporating new product options from other cultures and regions, as is the case of Asian food, with a long history of dishes that contain nuts – especially peanuts and cashews.
Meat industry
The meat industry is spearheading innovation by incorporating fillings based on nuts or dried fruits such as walnuts, pistachios and plums. Some interesting combinations in this regard are the fillings that combine cheese, dried fruits or candied fruits with nuts.
Hamburgers and sausages that include nuts in their preparation are also proliferating among manufacturers.
Among the most common claims used to connect with consumers and conquer new market niches we can find plant-based and vegan formulations, the search for premiumisation and the search for innovative solutions that are capable of enhancing the product's indulgence. 
Keep learning: Nut-based food innovations that are leading the industry
Nut pastes and pralines
Nut paste – made out of ground nuts – is an increasingly popular derivative since it improves the nutritional quality, texture and flavour of a myriad of products. 
The more liquid or smooth pastes of under 35 microns, blanched and slightly roasted, are mainly used in vegetable beverage, smoothie and yoghurt formulations. If it is thicker or denser pastes, with particles larger than 80 microns, more roasted and sometimes unblanched, are used in the preparation of functional food products, as well as turrones, ice creams, sweets and cookies.
The praline, which mixes paste with sugar and a small amount of other ingredients, is highly common in pastry due to its sweeter taste.  
As you can see, there are an ever-increasing new uses of nuts in the food industry. At Itac Professional, the B2B brand of Importaco Group, we are leading nut suppliers for industrial companies and food service businesses with a track-record of over 75 years. 
Committed to innovation and quality, we develop solutions that are completely tailored to the needs of our clients, with the added value of a wide multisectoral experience and a full specialisation on the product. Thanks to this, we offer full control when it comes to traceability and food safety. 
Are you looking for a supplier for your industrial company? Tell us more about your needs and we will assist you, no strings attached.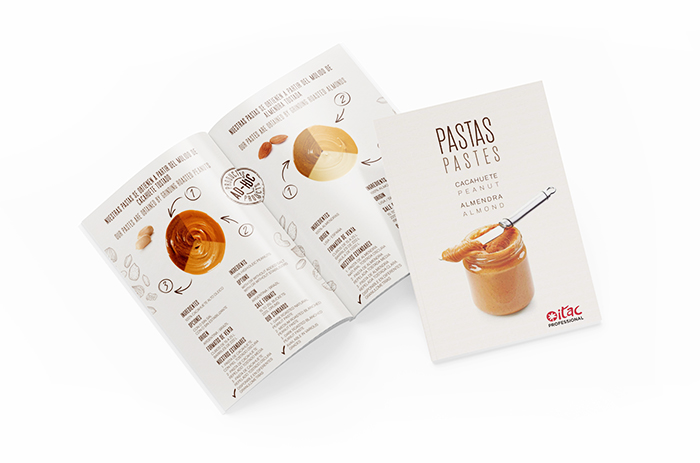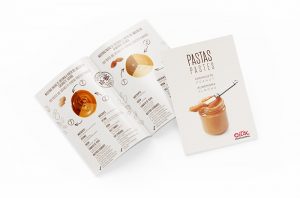 DOWNLOAD OUR PASTES CATALOGUE FOR FOOD COMPANIES 
Sources:
1California Walnuts. Walnuts May Boost Memory and Improve Cognitive Function
FI Food Ingredients Europe. Snacking the modern way: An overview of EU and US trends