The bakery and pastry industry is experiencing a moment of significant innovation in the search for the perfect balance between offering healthy and indulgence products. What are the main bakery industry trends? Changes in lifestyle during the last few years have encouraged a series of trends that are leading manufacturers to introduce new, more natural ingredients. Here, the key to success is strengthening the nutritional value while satisfying the most discerning palates with new textures, flavours and aromas.
In this article we will discuss a few of these trends, as well as how introducing nuts or dried fruits can help attract new consumer profiles that are more committed to their diet.
Main bakery industry trends
Better ingredients and more transparency without giving up on flavour. A complex equation, but one that has dried fruit as its best ally. Below you will find a brief summary.
1. Free-from trends
The development of innovative gluten-free products, including snacks and baked products, is one of the lines of innovation of this industry that now goes beyond the celiac consumer profile. There is an increasing number of consumers that demand gluten-free products because they perceive in them additional benefits due to the absence of gluten, such as a simpler labeling or a more natural product, or one that is more beneficial for keeping their weight under control.
On the other hand, gluten-free products are also linked to new lifestyle diets, where consumers feel allured by their healthy reputation. Without a doubt, this is one of the trends that increasingly encourages more brands to introduce flours based on oats, corn, quinoa and almonds as a base ingredient of their new products.
In light of this situation, brands are making an effort to ensure that their gluten-free offers are cleaner and more transparent. Where refined flours and modified starches used to go unnoticed, baked goods manufacturers are now reformulating their gluten-free recipes to use ingredients that are more familiar to consumers.
What part does almond flour play here? It is being increasingly applied due to its healthy attributes, since it has the same nutritional value as whole almonds. On the other hand, in regard to processing, its smooth texture and fine grains are in contrast with the typical roughness of other gluten-free flours. In summary, it is the perfect ingredient for baking as well as highly versatile, since it can be found in breads, muffins, cookies and gluten-free energy bars, among other products.
You might be interested in: Processed or manufactured almond:
discover all its many possibilities
On the other hand, as part of the sugar-free or low-sugar product trends, the industry is aiming to innovate using ingredient substitutes such as dried fruits. Dried dates, apricots, plums and raisins are concentrated sources of sweetness, and rich in nutrients such as potassium and iron.
2. Plant-based diet and functional food ingredients
Plant-based diets aim to include the nutritional benefits of a diet based on vegetable products and ingredients. This trend, which has been traditionally linked to vegans, has incorporated in the last few years a new consumer profile – flexitarians – who see a vegetable-based diet as part of a lifestyle.
In line with this trend, the industrial bakery sector has set its sights on innovation through nuts, where their high vegetable fiber and protein content makes them a hallmark functional food ingredient. Some examples include:
Wallnuts: this is the only nut that has a significant amount of alpha-linoleic acid, an omega-31 fatty acid. They also provide proteins and fiber, and are a good source of phosphorous and potassium.
Almonds: whether whole, as toppings or processed, or as almond pastes and almond flours. They make for another key ingredient, rich in fiber and healthy fats, which offer a creamy texture and a very unique flavour.
Peanuts: a great source of plant-based proteins and vitamin B52, which contributes to the reduction of tiredness and fatigue.

3. Immune system booster ingredients
Caring for your digestive and immunological health through the consumption of prebiotics, probiotics and postbiotics is becoming a widespread trend in our society. The Covid-19 pandemic has acted as a catalyst of this trend, and here, the properties of nuts3 are once again in the spotlight.

Do you work at the food industry? Are you looking for almonds, peanuts or nut pastes?
4. Clean label trend
Transparency and clarity. Baked goods, cookies and pastry consumers try to avoid long and incomprehensible labels. Manufacturers know that consumers need to know the source of what they are buying, which is why nuts and dried fruits are gaining ground as alternatives in manufacturing processes.
Offering more flavour with less ingredients is not easy, but manufacturers are more open than ever to finding the perfect ingredient.
5. Multisensory innovation
One of the most important bakery trends. Reformulating products in order to reduce their levels of sugar or calories poses a series of challenges related to flavour, sweetness and mouthfeel.
Offering healthy products that offer an attractive sensory stimulation to consumers is one of the challenges faced by companies of the sector in their search for innovation.
More specifically, we are referring to the field of multisensoriality. The fact is that consumers are drawn to visual attractiveness and experimentation with flavours or textures. Combining a crunchy texture with a smooth one or experimenting with new creamier and pleasant fillings is essential in this new sensory adventure.
Value proposal of nuts in the bakery industry
To sum up, what are the main benefits of incorporating nuts in line with all of these trends?
Strengthening the nutritional value of the product
Searching for new textures
Improving the visual attractiveness of the product
Bestowing the product with a more functional character
Experimentation with flavours to surprise the consumer
Itac Professional, leading bakery and pastry industry supplier
Itac Professional, Importaco's B2B brand for the food industry, is a leading nuts supplier for bakery industry companies that strive to keep up with the latest trends and innovate with nuts. Our wide range of products allows us to supply these industries with almonds –processed in a Peanut Free factory-, peanuts, nuts and other ingredients in different formats ranging from pastes to cubes, sheets and slices.
At Itac we specialize in the control of the product across all of its stages – from harvesting in the field to processing and sale. Thanks to this, we have a traceability control system that guarantees the highest safety and quality in the raw materials that we supply to the bakery industry.
We are familiar with bakery industry trends. Our experience in this sector enables us to offer a high-value personalized service, being able to design tailor-made solutions based on received technical specifications. Need more information about our products? Contact us.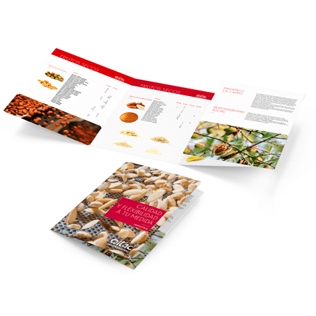 Want more information about our products? Take a look at our nuts catalogue for the industry.
Sources:
1 US. Department of Health & Human Services – National Institutes of Health. Dietary Supplement Fact Sheets: Omega-3 fatty acids.
2 The Foundation of the International Nut and Dried Fruit Council. Peanut. Adding peanuts into your diet may help reduce tiredness and fatigue.
3 Cambridge University. The effect of nut consumption (tree nuts and peanuts) on the gut microbiota of humans: a systematic review.