The food industry is currently witnessing a new form of consumption. It must now abide by more sustainable processes and the use of innovative ingredients that are not only natural, but that also offer an added value and come from more environmentally-friendly sources. For this reason, it is vital for the entire industry to engage in food product development processes with ingredients and formulations that accommodate these new needs. Do you want to know where NPD innovation is heading? Keep reading.
In this article we go over new strategies related to the addition of ingredients, focusing on one type that is the most attractive due to its properties and how it improves product indulgence: nuts. Want more reasons why you should keep them in mind? Keep reading.
Main drivers of new product developments in the food industry
Without a doubt, global awareness in society has evolved with the passing years. This evolution can be noticed in the current market trends.
Now people are more demanding in regards to what they eat. They feel responsible for the resulting environmental impact and are fully aware of the need of the human body for healthy foods.
In addition, they are aware of their power to force industries to produce foods that foster a responsible, healthy, nutritious consumption that caters to the specific needs of certain segments of the population.
This entire change directly reflects on the new consumption habits. Now, consumers seek and demand:
Product personalisation, to satisfy specific consumer needs.
Production process sustainability, to care for the environment and guarantee the planet's health.
Production traceability, from the source and the creation of the raw material all the way to the distribution of the final product.
Transparency when it comes to ingredient information, to ensure that the product is high-quality, natural, healthy, ecological and ethical.
In this landscape, there is no alternative but to adapt, shift paradigms, undertake challenges and explore new technologies, new ingredients, new processes and new allies. What for? To create products that are in line with consumer demands.
And for this, it is paramount to start by using ingredients that offer an added value to the food product, that improve its indulgence and that are also sustainable.
Among the most attractive ingredients within these new trends we can find nuts, because they satisfy many of the new demands, are healthy, highly nutritious and add value to formulations.
In its Top Ten Trends 2022 report, Innova Market Insights highlights some new food product development trends, such as:
The use of ingredients that generate limited waste or that are completely reusable as part of a circular economy. Nuts are one example of this.
The search for more functional ingredients within the baked goods industry.
Use of plant-based food dyes.
The manufacturing of snacks focused on indulgence, innovation through hybrid combinations that accommodate new consumer diets.
The use of natural preservatives and organic food dyes, which is essential for clean-label foods.
Sensory innovation in the food industry. Formulations that surprise consumers due to their flavour, texture and smell. Offer consumers unique and holistic experiences.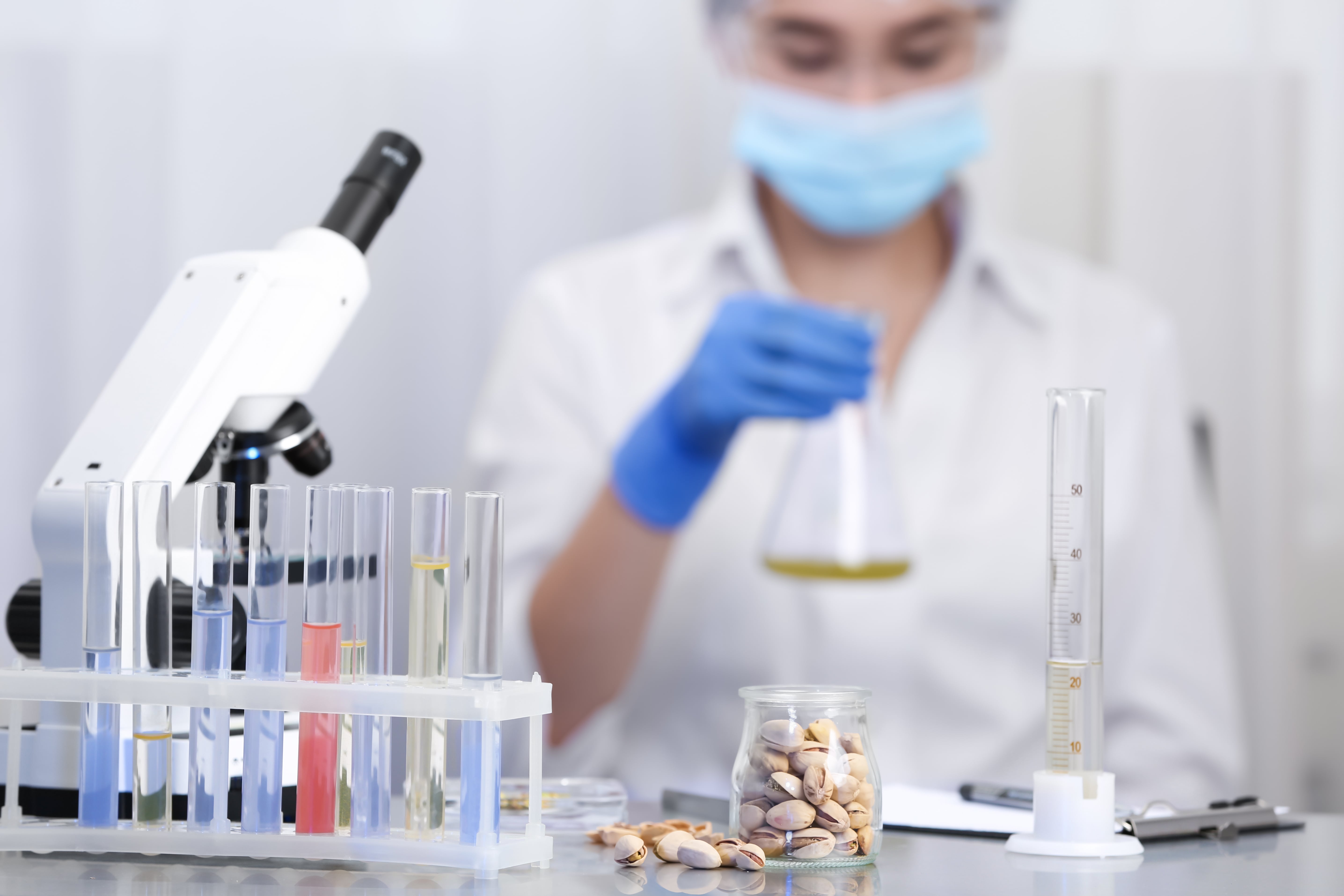 DO YOU WORK AT THE FOOD INDUSTRY? ARE YOU LOOKING FOR ALMONDS, PEANUTS OR NUT PASTES?
Lines of action in the development of new products
When engaging in NPD in the food industry, research and design approaches need to be modified, adopting new technologies with the purpose of tailoring products to consumption demands and the significant competition on the market.
Another essential component of the new food product development process is testing. There are scientific and technical tests that require a multidisciplinary team, cutting-edge technology and suitable facilities.
On the other hand, there are feasibility tests, to know its acceptance on the market, how the consumer perceives it and to guarantee quality during large-scale production.
Ingredients and raw materials are of great importance within the food product development strategy, since those ingredients must also suit the current consumption trends.
Thanks to their natural nutritional value, their versatility, and the increasingly sustainable crops where they are grown, nuts are among the ingredients that are more supportive of food innovation.

Some examples of NPD in the food industry
Bakery
Among the greatest innovation trends we can find bakery. It involves the addition of gluten-free ingredients that boost the immune system and have a high content of plant-based fibre and proteins.
Bakery is also aiming to reduce the amount of sugar without forgoing textures and flavours. And here, nuts (either whole, as flour, diced, etc.) are the perfect ally for new products of this segment – an ingredient that strengthens the nutritional profile and, additionally, adds indulgence.
Read more about this: Bakery industry trends: new fillings and toppings with nuts
Frozen foods
Due to their convenience, frozen foods are trending, but with a premium demand: they must be fresh, highly nutritious and must also come in practical, original presentations.
For example, some premium frozen foods are: gluten-free frozen pizza, manufactured out of dough made with nut flour; and the new and innovative frozen pasta made with almonds.
Dairy/Plant-based food and drinks
In the food industry, plant-based NPD are spreading beyond healthy drinks. Now we can find new product lines and major innovations within the dairy sector or as a way to replace or enrich traditional meat products.
Keep reading: Dairy alternative products, a growing category in search of the best nuts
In this regard, the introduction of nuts such as peanuts or almonds is seeing great use in all kinds of beverages. One example of this is coffee, with latte options that use almond-based vegetable drinks and peanut-based gourmet flavoured coffees.
Ice cream industry
According to data by Innova Market Insights, the most common claims among the latest ice cream industry product launches include ethical product sources, premiumisation and vegan or vegetarian claims.
Due to their flavour or relation with these trends, it is increasingly common to see ice creams formulated using nut creams, whether as a fillings or toppings.
Snacking
Snacks aim to offer a satisfying experience to consumers that seek not only pleasure and convenience, but also healthy options that suit their diets. In this regard, with the goal of satisfying increasingly daring generations, new hybrid snack combinations are emerging that combine, for example, salty and sweet ingredients. Ingredients such as defatted peanut flour strengthen the nutritional profile without foregoing one bit of flavour.
Find out more: Chocolate confectionery trends: plant-based, healthy indulgence and texture innovation
Nuts: the perfect ingredient for food product developments
It is clear why you should keep nuts well in mind. They are innovative food ingredients, especially suited to satisfy new food trend demands. They are healthy, offer an added value, are a source of plant-based fibre and protein and convey indulgence to the product.
Nuts are essential in the nougat and ice cream industries, plant-based beverages, dairy alternatives, pastry and confectionery and, of course, in the chocolate industry.
It is also important to keep in mind that the quality of nuts, their traceability and transparency and their sustainable sourcing and production are indispensable factors for today's consumers.
At Itac Profesional we are nut suppliers and producers, and we are aware of the importance of guaranteeing the quality and safety of our product. Which is why we use state-of-the-art technology and a traceability process to care for even the slightest detail.
Learn about the entire traceability process for our almond, from its harvesting all the way to its commercialisation.
If you need advice in relation to the type and form of nut required by your food industry, contact us. At Itac Professional we have a track-record of over 75 years in the sector.

DISCOVER THE LATEST INNOVATIONS WITH ALMONDS AND PEANUTS IN NEW PRODUCT DEVELOPMENTS
Sources:
New Lab. New product development in the food industry: turn your assays and pilots from bottleneck to competitive advantage.
Food Ingredients 1st. NPD in action: Top Ten Trends 2022
Fi Global Insights. How to harness the latest plant-based trends in your NPD process.