The ice cream industry is experiencing a period of great creativity and innovation. The impact of the Coronavirus, the lockdowns and the restrictions to the hospitality industry have led many people to consume ice creams at home. In this regard, according to Mintel, 45% of consumers see ice creams as their favourite indulgence, which further encourages manufacturers to build new bonds with these consumers. What are the latest ice cream trends? Where is innovation in this sector heading? How can new consumer profiles be attracted? Keep reading to find out. 
A recent article by Innova Market Insight states that flavour is still the main deciding factor among ice cream consumers, though other aspects are becoming increasingly important, such as new lactose-free low-sugar formulations, label transparency and the use of more ethical ingredients.
These new factors are increasingly being demanded by consumers, which is why ice cream manufacturers keep them well in mind in their new developments and formulations.
Below is an index of trends that will be addressed in this article:
What are the ice cream trends that have been driving change in this industry in the last few years?
During the last few years, ice cream trends have shifted toward a greater flavour variety and complexity and the search for new textures that are fun, original and daring in an attempt to dazzle consumers.
Manufacturers have set off on a quest to find the "perfect ice cream", a goal that requires combining new flavours (without forgoing the classics, such as vanilla and chocolate which are still attractive to many consumers) and trying out new and surprising textures. And not only that – they have also had to adopt a transparent, healthy and ethical approach when choosing the ingredients for their formulations.
The combination of classic flavours with exotic alternatives is another ice cream trend. Here we could mention proposals such as the chocolate, almond and marshmallow ice cream.
When it comes to textures, new ice cream formulas aim for innovation, including crispy cookies, nuts and crunchy nut cream.
Ice creams that include macrobiotic, low-sugar, low-fat and even vegan ingredients are a few examples that go well with the interests of many consumers to opt for healthy or alternative diets.
Ethical Food: plant-based milk formulations on the rise
One of the greatest trends in ice cream manufacture is the rise of new product developments (NPD) with the following formulations: few natural and healthy ingredients that have a minimal impact on the environment and nature. 
Ice cream producers are cashing in on this trend, offering locally-produced, vegan, organic, fair-trade ice creams. The use of vegetable milk as an ice cream ingredient is becoming increasingly common, since its carbon footprint is lower than that of dairy products, in addition to being suitable for consumers that follow a vegan diet.
"The number of non-diary ice cream launches has grown by 30% during 2016-2020", Source: Innova Market Insights.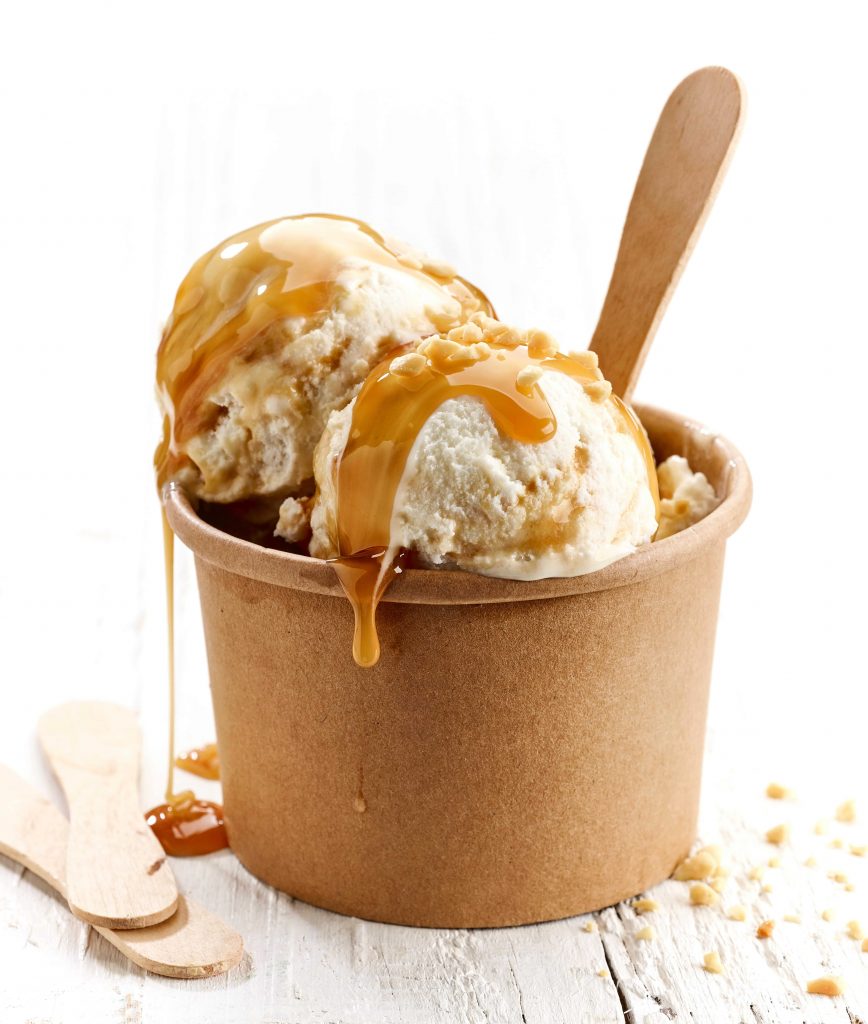 Focus on the textural qualities of plant-based ice cream
Consumers are showing a growing interest in plant-based foods, and ice creams are no exception. 
According to the latest market research report by the Mintel Global New Product Database (GNPD) performed in the year 2020, vegan ice cream represents 7% of new ice cream launches worldwide. 
The focus on the qualities of textures in these new plant-based ice creams is driving innovation in the industry. Here we can highlight vegan ice creams with a nut based texture – particularly walnuts –; as well as cookie or toffee crumble.
Adapting to this trend is, according to data by Mintel, likely to attract 73% of ice cream consumers in the United Kingdom, who claim that they like ice creams with different textures.
On the other hand, chocolate (which is responsible for 26% of innovation in 2020), vanilla (11%) and coconut (9%) are still the most popular in terms of vegetable origin flavour innovation.

Do you work at the food industry? Are you looking for almonds, peanuts or nut pastes?
Indulgent flavours: increasing the value of ice cream through mixes and toppings
This favourable trend toward indulgent flavours has accelerated as a consequence of the COVID-19 pandemic. The lockdown and the situation of anguish and uncertainty has led many people to find comfort in partaking the flavours of their childhoods, such as caramel, as well as luxuriating in a premium indulgence with desserts that deconstruct classic ice cream flavours, often combined with more sophisticated proposals – even including liquor-based mixes.
Indulgent flavours are in no way at odds with the clear trend toward natural, healthy and nutritious ingredients. They can even offer a functional benefit, such as that of proteins found in nuts. Here, products such as peanut butter are perfect to be added as ingredients in new product developments of the ice cream sector.
You might be interested in: Nut Butters in the food industry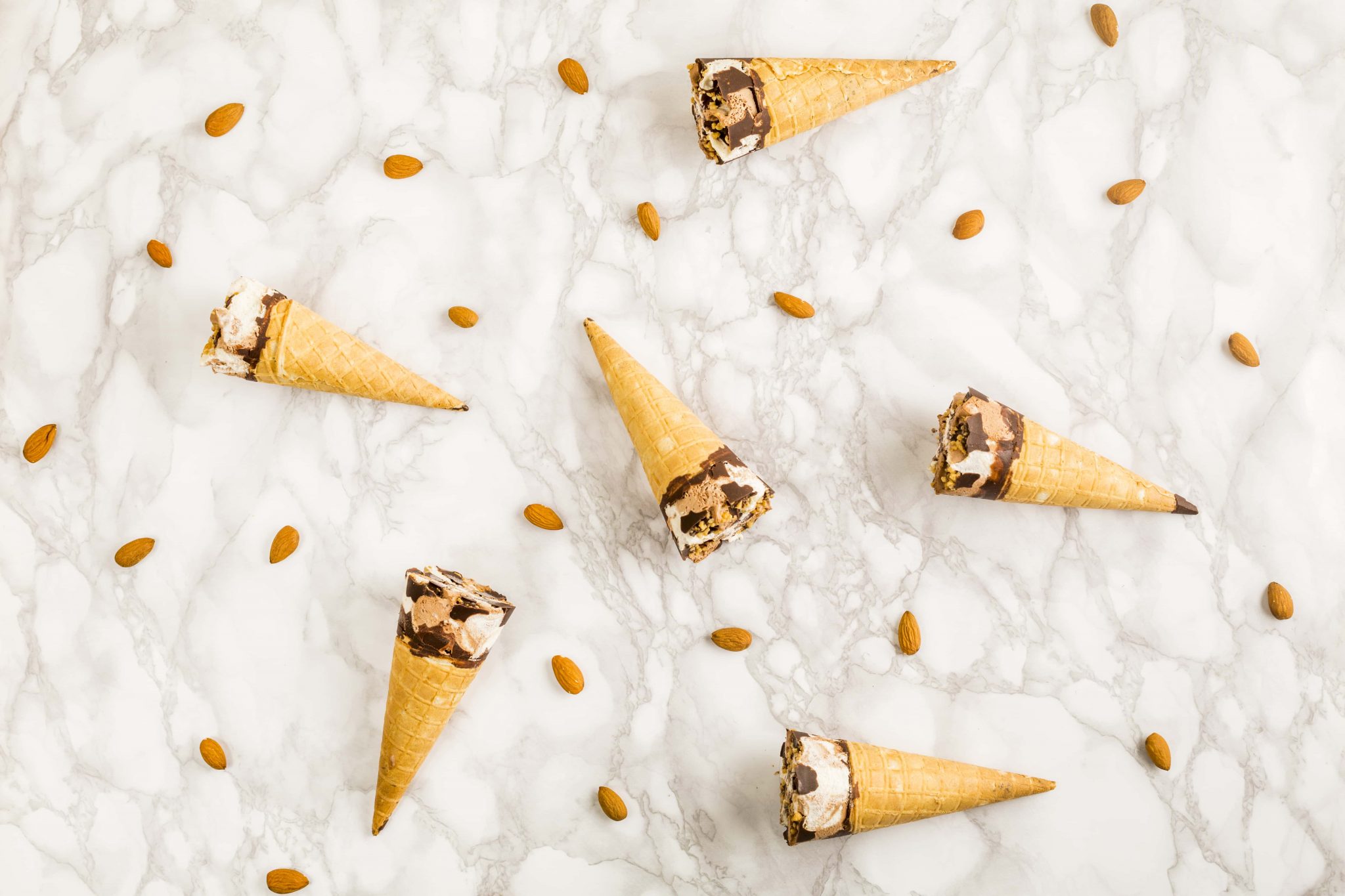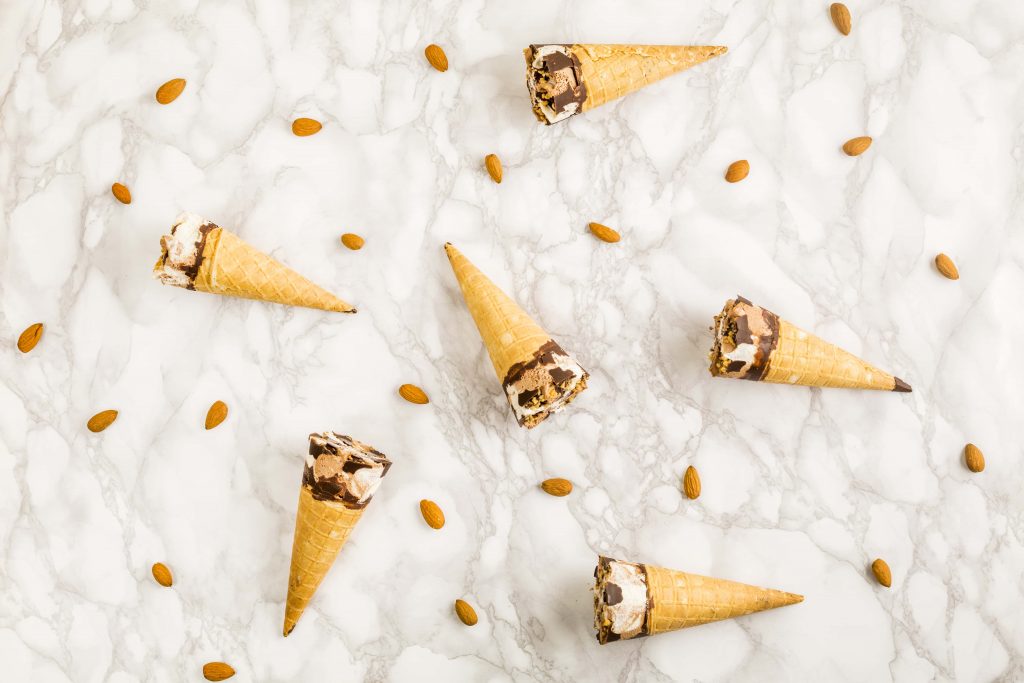 Low sugar formulations
Low sugar formulations are also gaining importance, attaining a penetration of up to 6% of new product launches in 2020, according to Innova Market Insights. "Artificial sweeteners have steadily lost ground, and erythritol, stevia and monk fruit are now the top three choices in low sugar and sugar-free ice cream".
The importance of holistic benefits: real and simple functional ingredients
Holistic food, exclusively composed of natural ingredients free from additives and artificial sweeteners, are a macrotrend that applies to most foods.
For ice creams, consumers also tend to look for products manufactured with simple ingredients that offer functional benefits. This is why new vegetable product formulations, natural sugar substitutes and nuts are becoming more popular.
In this regard, for example, we are seeing that some manufacturers are launching their own certifications to strengthen concepts such as Gluten Free, while others are reinforcing their better for you claims with healthier preparations: products free from preservatives, low on fat or that include fresh, top-quality ingredients.
You might be interested in: Dairy alternative products, a growing category in search of the best nuts 
High added protein potential
Proteins are seeing a rising demand by consumers, a fact that has also translated to the food industry and becomes clear with this powerful piece of data provided by Mintel: during the last five years, launches of foods and beverages with a high added protein content have doubled (from 2% to 4%).  
Ice creams are also following this same trend, with the percentage of ice creams with added proteins rising from 1% to 2% during the last 4 years, according to data by Mintel.
With sights on continuing this trend, ice cream manufacturers are exploring different healthy protein options – especially vegetables – as alternatives to dairy proteins, and here nuts such as peanuts and peanut-derived products are a key ingredient.  
As we have seen, dairy-free formulations, low sugar recipes, transparent labels and ethical ingredients are some of the top trends of the ice cream industry. 
Nuts and nut-derived ingredients are fully aligned with many of these ice cream consumption and manufacturing trends. On one hand, they boost the nutritional value of formulations, and on the other, they perfectly mesh with many of the new drivers of innovation in the industry. 
Are you looking for a nut provider? At Itac Professional, B2B brand of Importaco Group, we are expert nut manufacturers and have a long track-record offering custom-tailor solutions to ice cream manufacturers. 
If you have any questions, please contact us for more information, no strings attached.

Discover the latest innovations with almonds and peanuts in new product developments
Sources
Dairy Foods. 2020 State of the Industry: Ice cream is a category on fire. October 26, 2020.

Innova Market Insights.

Flavor is king, but is not the only trend in ice cream March 17, 2021
Prepared Foods. Ice Cream Trends Beyond Flavor.  March 30, 2021
Mintel. Opportunities to keep ice cream and frozen novelties from freezing over in 2021. May 10, 2021
Mintel. Big Scoop for vegan ice cream: global plant-based ice cream new product development doubles in five years. August 05, 2020