The food industry has evolved during the latest years toward the use of natural, high quality ingredients specifically designed to offer a unique flavour and texture to the products. In processes for the manufacturing of ice cream, cakes, chocolates and specialties such as cereals and cookies, it is increasingly common to add innovative solutions such as almond and peanut pastes offered by nut suppliers.
What is almond paste?
Almond paste is a spread obtained by grinding almonds and it is used as an ingredient in the food industry. The almond paste offered by Itac Professional is solely composed of 100% almond, with no additives, stabilisers or saturated fats. Depending on the needs of our clients, we also prepare butters that do include other ingredients such as salt, sugar, oil and, in specific cases, stabilisers.
Depending on the variety that is to be prepared, almonds are processed with or without their skin, with different degrees of toasting and grinding being applied.
Applications of almond pastes in industry
Almond paste is a highly regarded ingredient in the most innovative recipes of the food industry. It provides the right hint of sweetness when preparing vegetable beverages made with almonds, yogurts and vegetable ice creams, as well as the most delicate offerings of the industrial pastry sector. It is also a great aid when preparing sauces, with just the right amount of salt and with no additives.
Since it is a star ingredient in a myriad of recipes, food industry professionals increasingly demand this product from wholesalers who specialise in nuts. The versatility and nutritional properties of this product are the fundamental reason for its success. Below we highlight some of the most important uses given to these products:
⦁ Blanched almond paste is used in ice creams, vegetable beverages, pastry preparations and as filling in baked goods
⦁ Unblanched almond paste is used mostly in chocolates. It can be told apart due to its darker colour.
⦁ Almond praline contains sugar and is used mostly in the form of fillings and toppings in pastries.
Lastly, it is important to remember that these pastes play a major part in vegan and vegetarian recipes, where they provide extra vegetable proteins, flavour, texture, and even add some extra visual flair.
You might be interested in: Discover the possibilities of nut pastes
Itac Professional: State-of-the-art technology for the production of almond paste
As specialised nut manufacturers, at Itac Professional we know how important it is to have the latest in technology when treating almonds and when subsequently manufacturing its paste. Because of this, we can provide the food industry with ingredients that meet the expectations of its end customers.
Discover the production process of our almond paste
The quality of our almond paste is guaranteed by the entire process involved in its manufacture, which starts in our own fields, cared for with dedication. There, we harvest the best fruits, which are taken to a specific (peanut-free) treatment plant for processing and transformation.
Don't misss it: Find out our nut paste solutions for the food industry 
What added value do we offer as manufacturers of almond pastes?
⦁ We have custom grinding solutions that enable the preparation of different types of almond and peanut pastes, creams and butters, to meet the requirements of clients who produce food at a large scale.
⦁ Our control over all stages of the process allows us to obtain personalised, high-quality nut pastes for production in large quantities.
⦁ We personalise the product at our facilities. Our clients can choose the technical specifications that the paste must meet as required for their production processes as part of specific niches in the food industry. Thanks to our specialised innovation team, we can adapt to our clients' requirements in regard to the development of flavours, structure, granulometry and appearance of the final product.
⦁ Control over the cleaning, toasting, blanching, classification, grinding and chopping process as specialists in the market of personalised almond and peanut solutions and the processing of these nuts.
⦁ All of this, while ensuring to always meet the highest quality standards, as well as comply with standards for the safety and sustainability of our nut pastes.
This way, our clients receive an innovative ingredient, tailor-made to address their needs, which allows them to improve their own products by bestowing them with special flavours, textures and aromas that are in line with the latest trends.
Personalised products that address the needs of the sector
The almond paste of Itac Professional is an example of our company's expertise as suppliers of ingredients for food industry companies.
We work to ensure that our nut paste catalogue meets the needs of the industry, and we offer a wide selection of raw and prepared products to satisfy the needs of our clients. This allows us to offer specific solutions to each industry segment, by having the ability to create a paste that has the most suitable toasting and texture properties for every case.
You might be interested in: Discover the new Itac Professional catalogue of nut pastes for the Food Industry
Almond paste is becoming an increasingly essential ingredient in all kinds of preparations. Its degree of sweetness and grinding, as well as its colour, make for an important addition to the world of baked goods, pastries, ice creams and sauces, among other foods. Need more information? Contact our team and let us know how we can help you.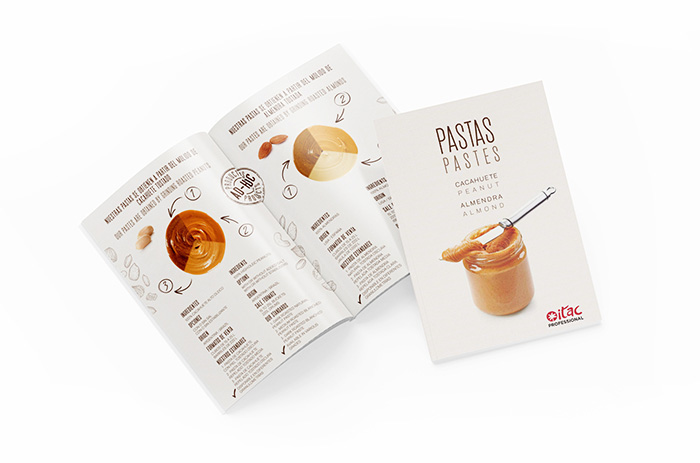 Want more information about our products? Take a look at our nut pastes catalogue for the food industry.