The new ITAC Professional Food Service catalogue, dedicated to the restaurant industry, has been released and is designed to offer freshness and maximum quality to all of its clients.
ITAC Professional, part of the Importaco brand, is dedicated to the manufacture and distribution of nuts and other snacks and has created a network of factories in Spain, Poland and Turkey that comply with the most demanding food safety standards, making it the leading brand in the sector.
With more than 30 years of experience in the food and food service industries, Importaco Food Service S.L. is committed to ensuring quality and food safety in all of its products. For this reason, it complies with the ISO9001 food safety standard, has implemented the HACCP food safety system and complies with both the IFS and BRC quality certificates.
New packaging and sizing for the hospitality sector
Not only do we offer the best nut and dried fruit products, we make them available to our customers in the most practical packaging for all occasions and needs. The containers available to our customers are:
Tubs: to ensure more comfortable and practical handling.
Bags: in different capacity formats depending on the type of product.
Boxes: designed for kitchens and large orders.
Jars: for easy use and a better conservation.
Appetisers
Appetisers are an indispensable part of professional catering and at ITAC Professional we offer nuts, party mixes, fried snacks and cured meats in different formats designed to offer maximum flexibility:
Nuts: peanuts, pistachios, cashew nuts, almonds, corn, hazelnuts or lupins presented in 1kg bag formats or 2kg tubs, offering the possibility of serving them as a free nibble to your customers.
Coated nuts: peanuts with honey, Tex-Mex or barbecue flavouring, fried corn, oriental appetisers, available in a 1kg bag and, in the case of the giant Tex-Mex corn, in a 2kg tub.
Party mixes: up to six varieties of party mixes made up of giant corn, peanuts and other nuts, in various flavours including 'American' – available in 1kg bag format or 1.8kg tubs.
Fried snacks and cured meats: traditional chips, bread sticks and cured meats, available in 0.4, 0.5 and 1kg bags or small 0.5 and 0.7kg tubs.

Cooking and confectionery
ITAC Professional's range of bakery and kitchen products includes nuts and dried or candied fruit, presented in different varieties.
Raw nuts: a wide range of almonds, hazelnuts, peanuts, pistachios, walnuts, pine nuts, sunflower seeds, macadamia nuts, cashews or chestnuts in 1kg bags.
Dried fruit: plums with stones or pitted, dried figs of national or Turkish origin, dates with or without stones, sultanas, grated coconut or traditional dried apricot slices available in bags weighing 1kg.
Candied fruits: an assortment of fruits, red or green angel's hair and red cherries, perfect for cakes, pastries or confectionery in general, available in boxes of 2.5kg.
The new ITAC Professional catalogue: incorporating new food trends
The new ITAC Professional catalogue has also the world of haute cuisine covered, with the addition of seeds, organic products and exotic fruits to the catalogue to give an extra special touch to your products.
For salads: from fried onions to mixed seeds (including flaxseed or sesame), and not forgetting dried tomatoes, are available in our catalogue in 0.5kg or 0.6kg bags and jars.
Seeds and organic products: 'la nouvelle cuisine' has inspired new products in our catalogue, for example chia, gold flax, poppy seed, buckwheat or quinoa (all organic), but also the more traditional nuts, also organic. All available in 1kg bags.
Exotic fruits: blueberries, banana chips, cherries, strawberries, ginger, cantaloupe melon, diced papaya or pineapple, among many others, are available to you in the 1kg bag format.

Nibbles by ITAC Professional
Last of all, as nut suppliers, we mustn't forget the complimentary products for you to offer your customers to give an extra, quality touch.
Convenience formats: Available in 70 or 90g packs containing fried almonds, pistachios, tender corn and nut or crunchy party mixes.
Gourmet products: cases or glass jars containing the most special products in our range, such as quinoa, juniper berries, cardamom, almond truffles, hazelnuts or peanuts.
Complimentary biscuits and sweets: candies or biscuits for a moment of indulgence or to accompany a coffee, presented in 1kg bags or boxes of 300 units, in the case of biscuits.
Mini-bar service: bags with everything we expect to find in a mini bar, such as peanuts, crisps, jelly beans, almonds or cashews.
Do you want to know more about the solutions we can offer you? Click here and discover the complete ITAC professional catalogue for the hotel and catering industry.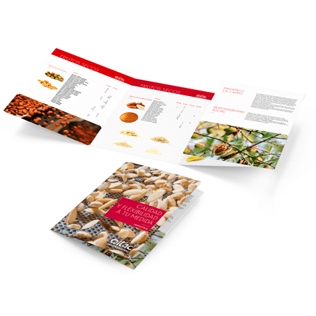 WANT MORE INFORMATION ABOUT OUR PRODUCTS? TAKE A LOOK AT OUR NUTS CATALOGUE FOR THE FOOD INDUSTRY.