Raw and processed peanut, as well as peanut butter, are ingredients that are becoming increasingly common across different segments of the food industry. This growth is driven by changes in the consumption patterns of consumers, who compel manufacturers to update their offer with plant-based ingredients that are more respectful of the environment and provide new functional benefits in regard to health. In this article we will go over a few trends that support the use of peanut and share examples of innovation through the use of peanut and peanut butter in the food industry.
1. Why is the use of peanut in the industry on the rise?

 1.1 The boom of plant-based proteins 
Alternative protein-rich products are gaining popularity as consumers modify their diet to follow a healthier and more sustainable lifestyle. This is where vegan, vegetarian and flexitarian diets come in, which aim to rely on non-meat and non-dairy protein intakes, setting their sights on foods and beverages of vegetable origin.
Among consumers, the intake of proteins is grounded mostly on aspirational matters and on criteria related to health and general wellbeing. Furthermore, no preferences generally exist between one source and the other, though they do value the efforts of food and beverage manufacturers to help them follow a more balanced diet. Here is where peanut and its derivatives are becoming basic ingredients in new product formulations, leveraging protein content claims on the packaging.
On the other hand, the preference for foods with high contents of vegetable proteins is also perceived as a healthy alternative to other traditional options to increase the energetic value. Moreover, as everyday meals become fragmented and new consumption moments emerge, the addition of peanuts or peanut butters to snacks makes more sense. Their high nutritional value and low sugar content make them more attractive options than other traditional snacks.
1.2 The combination of tradition and new flavours
Food industry manufacturers are increasingly favouring the development of products which combine novel ingredients that can elicit new emotions among consumers, with more traditional and well-known flavours, such as peanut.
According to a study by Innova Market Insights, 70% of consumers experiment with new food concepts and unique combinations. They dare try new proposals and hope to be surprised by their favourite brands. In this regard, combining these new flavours with more familiar products is a method that works and is ever growing. Ingredients such as peanut oil, peanut flour and peanut butter are used as a basis in developments that include more surprising ingredients.
1.3 A clean and sustainable ingredient
Another aspect that supports the addition of peanut and its many processed forms in the food industry is its contribution to a cleaner, more transparent and, most of all, more sustainable label. 
Peanuts are among the most sustainable crops in existence. On one hand, they require much less water than other crops, and, moreover, are "nitrogen fixers", which is to say, they give back to the soil an important nutrient that other crops deplete. 
Just to give an example, peanut creams can be used as an alternative to dairy-based creams, which makes it a cleaner, more sustainable ingredient, provided that no other artificial ingredients are added.
You might be interested in: Specialising in almonds and peanuts, from the source all the way to the customer 

2. Innovating with peanut and peanut butter in the European food industry
If we take a look at the latest data by Mintel in relation to innovation and new developments of peanut-based products, the APAC region dominates the market with 35% of new peanut-based product launches, versus 26% in Europe, 19% in North America and 15% in Latin America.
On the other hand, when focusing on new product developments that include peanut butter, Europe leads this innovation with 28% of new product launches internationally, followed by Asia-Pacific with 25% and North America with 24%.
As for food industry sectors, the innovation with peanuts in Europe is led by snacks, sweets, baked foods with industrial chocolate, breakfast and cereals, desserts and ice creams.
Conversely, the innovation with peanut butter in Europe is led by the soup, hot beverage, snack and sweet segments.
What are the latest peanut an peanut butter trends? How are some of the most important food industries innovating with peanuts and butters? 
keep Learning: Peanut types: basic guide for industrial buyers
2.1 Snacks
The manufacturers of these products try to formulate their creations by limiting the number of ingredients. Peanut and its processed products in the form of butters or flours not only allow them to tinker with more natural and surprising formulations, but they also reinforce the protein content claim that is so important in this industry segment. 
Some examples:
Topped peanut in chocolate bars. One example of how to reinforce the crunchy texture sought by many snack consumers.

Peanut butter with banana and dark chocolate.

Do you work at the food industry? Are you looking for almonds, peanuts or nut pastes?
2.2 Vegan and dairy-free products 
Peanuts add indulgence to these products. In this segment, an increasingly widespread example are ice creams based on chocolate cookies with crunchy peanut butter swirls.
As for conventional ice creams, we could highlight how some brands combine different processed peanut products with chocolate to generate multisensory experiences. As an example, we could mention the peanut butter ice cream dipped in a chocolate coating, peanut butter sauce and milk chocolate. 
2.3 Baking and confectionery industry
Here, peanut cream is an increasingly common ingredient in industrial baking. This ingredient satisfies the gluten-free trend and offers extra proteins in products such as peanut butter cupcakes or peanut butter brownies with peanut butter icing. What is interesting here is that peanut adds a nostalgic flavour – something that is attractive to consumers and, consequently, to innovation teams in the industrial bakery and confectionery segment. 
2.4 Cereals and breakfast products
Here peanuts boost the energetic value of breakfasts. Below are a few examples of how peanut is being introduced as a breakfast ingredient:
Peanut butter wholegrain oat

Peanut butter granola 

Peanut butter biscuits, bars and cereals
In all of these examples, the peanut butter adds an original texture and meets the gluten-free demands
2.5 Peanut butters trends
Peanut butter manufacturers are also innovating in their formulations toward low-fat, low-calorie options. To this end, the manufacturers combine toasted peanuts, coconut palm sugar and salt. During the manufacturing process, the peanuts are pressed to remove most of their oil; afterwards, they are ground to a fine powder and later mixed with coconut sugar and salt.
What do you think about this peanut and peanut butter trends? Are you considering introducing peanuts as part of a new product development? Are you looking for a specialised peanut supplier? At Itac professional, the B2B brand of the Importaco group, we are suppliers of nuts for various segments of the food industry. Contact our team and tell us more about your needs.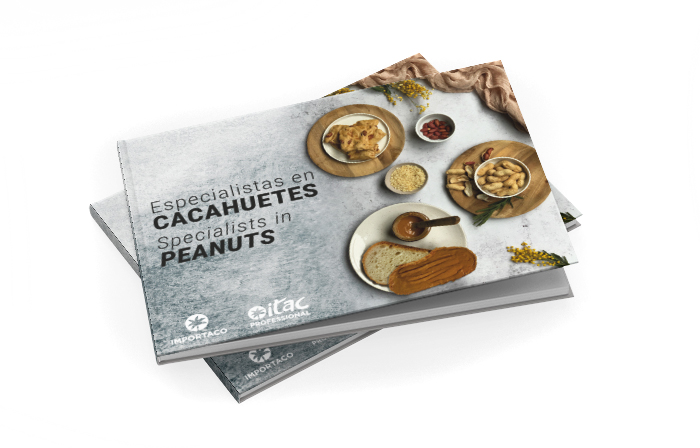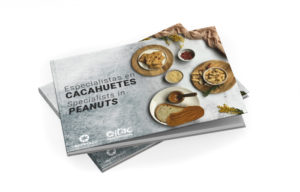 Download our specialised peanut production catalogue for the food industry
Sources
National Peanut Board. 7 must-try peanut snacks
2018 International Peanut Forum. Peanuts trends. Maria Sisci from Mintel.